Is South Carolina hemp legal?
Hemp derived products are currently available in the state of South Carolina. Back in 2014, The state became more lenient towards the legalization of CBD when they legalized it for medical use only. From 2014 till 2018 CBD was only legal under certain conditions. Once these four years passed South Carolina along with many other states, legalized the cultivation and production of hemp derived CBD commercially.
If you are looking for a quality CBD wholesale product, you might be online, or in a store, whatever the case in South Carolina Nemadji is here for you. We are here to provide you with the highest quality CBD products processed with the highest quality Supercritical Co2 Extractors on the market. Check them out on our website or continue reading the blog below for more information about these products.
About Our Products
Companies you find on the internet or even brands in stores may not always be reliable in how they process and sell their products. You can tell if they are a reliable company with quality products when they show their third party lab reports allowing you to see exactly what's in it and if its legal or not. However, it is possible to find a quality company online and other places. If you ever need to purchase CBD, you have to make sure what your getting is high quality and to do that you need to take a look at their third party testing results. Interested in CBD made by a transparent and reliable company? Invest in Nemadji, your new CBD wholesale supplier.
Our CBD Wholesale products
CBD Isolate
Buy our wholesale cbd isolate for a beautifully crystalized, 99% CBD powder. CBD isolate is made by further refining CBD distillate, creating a free-flowing white crystal powder.
Full Spectrum CBD Distillate
Broad Spectrum CBD Distillate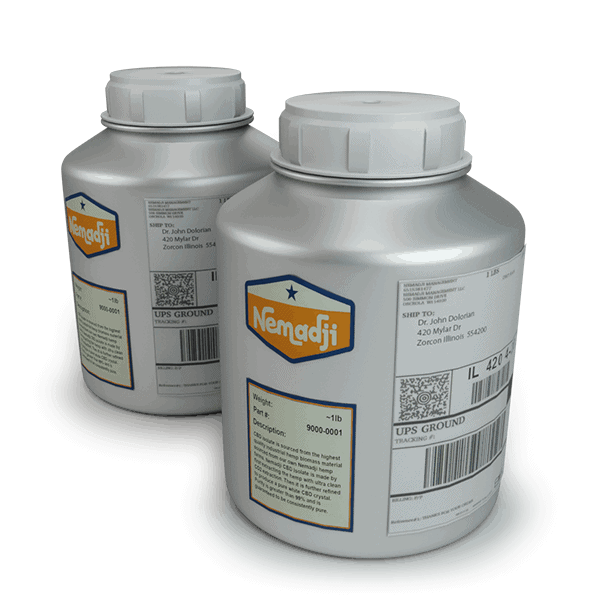 Our organic CBD distillate is a beautiful golden oil with 0.3% THC and is free of all impurities and chemicals. Buy our USDA organic certified CBD Distillate by clicking the link above.
Organic CBD Distillate
Industrial Hemp in South Carolina
Now lets recap, in 2014 a Farm Bill was released by the government to allow CBD for only medical purposes like epilepsy. The Bill also allowed for the cultivation of hemp under people with the license and intention of research and medical purposes. Commercial sales were prohibited. The Bill of 2018 allowed for the cultivation, production, and commercial sales of CBD.
In South Carolina, and really anywhere, it can be risky to just jump into buying the first product you see. And with so many businesses sprouting up into the world of CBD, a lot of them just want to scam you to make a profit they don't deserve. To not be scammed, it is so essential that you look at the third party lab reports if they have them. If you cant find the reports, don't even bother purchasing from them. If you are interested in a reliable and transparent company to buy Hemp derived products, consider Nemadji.
Growing hemp in South Carolina
People are asking "is it legal to grow hemp in South Carolina?" the simple answer is yes, but getting there can be a difficult challenge depending on how persistent you are. None the less, many small business owners took upon themselves to get there hemp cultivation license and plant hemp. Thanks to the 2018 Farm Bill, the people of South Carolina have been growing and selling hemp oil products commercially.
If you are considering to grow hemp in South Carolina then you will need to purchase a Georgia hemp license which will cost quite a bit. Once the hemp license is acquired its time to plant your hemp, but that isn't the end of expenses. The other procedures could be just as expensive as the license itself depending on the amount of hemp in the ground.
Application for a license requires a $500 fee. The state requires you to pay $5 per acre you plant hemp on. The final thing you need to keep in mind expense wise is the regular inspections that are required of you to keep your farm going. This alone is around $50 an hour.
Growing hemp in South Carolina is expensive for sure, but it is a great opportunity and others are joining in.
Where Do I Buy CBD In South Carolina?
There is an overwhelming amount of CBD products available in South Carolina, undoubtedly. What brand can I trust? Well that's what we are here for, to ease your mind and set you up for success. Our CBD wholesale is approved by third party testing facilities and is manufactured using the most efficient Supercritical Co2 extractors in the USA. For more information about our South Carolina hemp oil Wholesale Products, click here. If you have any questions at all, please contact our lovely team of experts here at Nemadji.
---
Date of publication: 6/29/2020
References:
South Carolina Marijuana Laws in 2020 Medical Marijuana, Inc. https://www.medicalmarijuanainc.com/south-carolina-marijuana-laws/ 04/05/2020